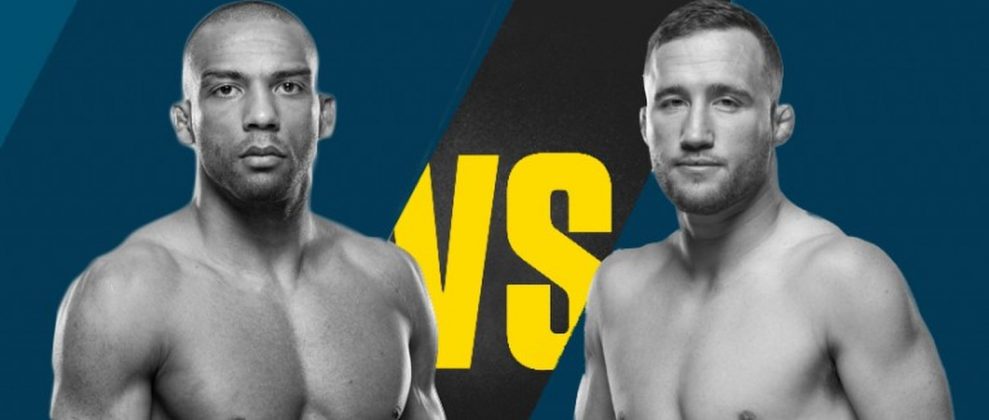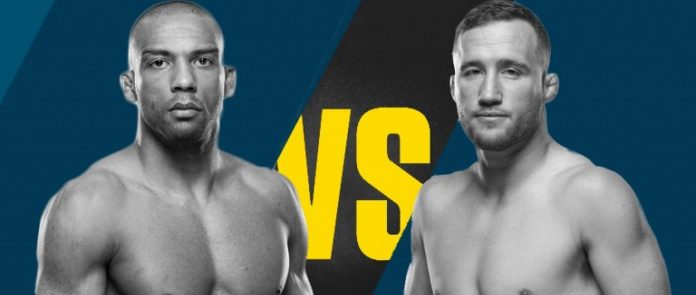 This Saturday in Philadelphia, Pennsylvania, we have two of the most dangerous strikers in all of MMA competing in the five round main event. Edson Barboza will fight Justin Gaethje to see who moves forward in the cramped UFC Lightweight division. These are two of the best, and most violent strikers we have in the sport, and both have incredibly different styles. Edson is the more technical of the two, with a background in Taekwondo and Muay Thai, and that is very evident in the way he fights, as he blends the two beautifully; Gaethje came from Freestyle Wrestling, but never uses it, and instead moves forward throwing punches and nasty leg kicks. This is a fight between two of the best leg kickers we have ever had, it'll be interesting to see how that plays out alone.
Edson Barboza (20-6) vs. Justin Gaethje (19-2)
Both men are very technical in the way they do things, neither fight the way they do with the success they have on accident. Justin Gaethje has made it through six world title fights, and thirteen of his fifteen other fights with a win, with the reckless style he has. Strange right? Most people would have definitely been knocked out more than twice in their careers if they had Justin's fight history, but that's what makes Justin Gaethje so special.
He is so unrealistically tough and gritty, he has that wrestlers grit and pace, but uses it for his striking, it really is entertaining to say the least, and uses his chin to block most strikes coming at him. Hey, it's not the smartest, but fans love him for it, and I'm sure he's loving all that bonus money he's made considering. Edson is much more stationary, he kind of reminds me of a bigger version of Jose Aldo that doesn't punch quite as hard, throws head kicks, and throws spinning attacks; other than that, I think they're pretty similar.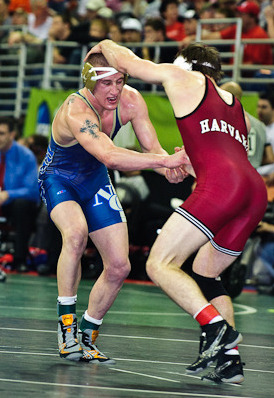 Justin Gaethje started wrestling when he was four years old. At Stafford High School, Justin became a two-time Arizona State-Champion, and the other two years he came in second; that's similar to Ben Askren's NCAA career, four-time finalist, two-time winner. He wrestled for NCAA Division I school, University of Northern Colorado, while he was in college, and earned All-American honors once, and placed seventh in the NCAA Division I Championships in 2010. Afterward he focused on MMA, and went 7-0 as an amateur with six finishes. He started out his professional career in mid-late 2011, quickly becoming 3-0 from August to December, and made that 7-0 by the end of 2012. He would then go 3-0 in 2013, and get his first title shot at 10-0 in the World Series of Fighting.
He won the WSOF Lightweight Championship in early 2014 via TKO just :69 seconds into round one. He made his first title defense against fellow 11-0 professional fighter Nick Newell, and also won that fight via TKO. In his next outing, he fought fellow knockout artist, and UFC veteran Melvin Guillard; Melvin missed the 155 lb limit for the lightweight title fight by four pounds, and it was reset for three rounds, rather than five. Gaethje won the fight via split decision, but won 30-27 on one judges scorecard. He was now 13-0, and afterward he'd defended his belt four more times, all wins coming via knockout, and improved to 17-0 before making his UFC debut.
Justin's UFC debut was one for the record books, as were his next two fights for that matter. He was awarded Fight of the Year in 2017 for his UFC debut performance against TUF 12 Finalist Michael Johnson, four different media outlets awarded that to him for this fight. He also was awarded Fight of the Month for both of his back-to-back fights with Luis Palomino by MMAJunkie, and Fight of the Half-Year with Palomino by Yahoo Sports. He was also awarded Round of the Year, Debut of the Year, and Comeback of the Year against Michael Johnson; not too bad for a UFC debut as a former six-time world champion. That Round of the Year award from his Michael Johnson fight however, get this, MMAJunkie gave him Round of the Year for round one, and Sherdog gave him Round of the Year for round two, crazy!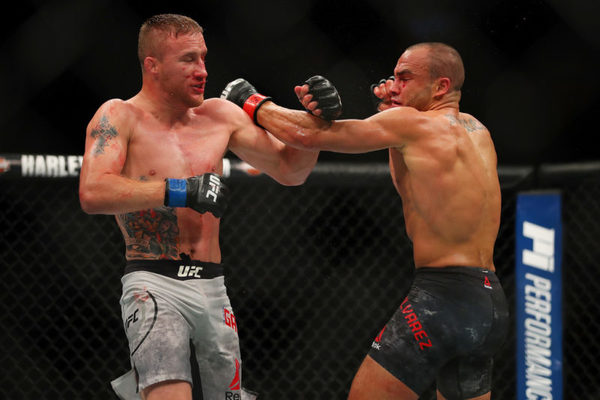 In his next outing, he fought former UFC, Bellator, BodogFIGHT, and Reality Fighting Champion Eddie Alvarez, again in an incredibly entertaining fight. Two media outlets gave them Fight of the Year for this one, though this would be his first loss. Then his next fight, my god was this a war! Justin versus Dustin Poirier was one of the best fights I've ever seen, I really hope they get matched up again before they retire. This fight, like the Michael Johnson fight, also got four media outlets naming it Fight of the Year. That's absolutely insane! That's three fights in a row he was awarded Fight of the Year.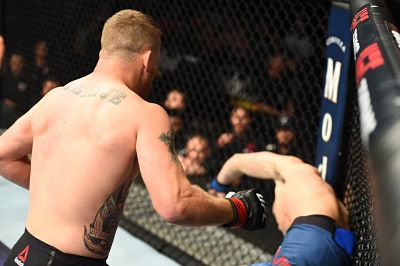 Regardless of whether he lost this one to Poirier and the last one to Alvarez, to get ten different Fight of the Year awards for three straight fights is remarkably unheard of. He fell to 18-2 after losing to Alvarez and Poirier, the Poirier fight of which it looked like he was sure to win, Dustin Poirier is just so tough. I can't believe he was able to muster up the power to knock Gaethje out with one leg. In his next fight he had his third UFC main event, this one against the 13-1 James Vick, he got the KO win just under :90 seconds into the fight. Now we get to see how he does against the lethal technician, Edson Barboza!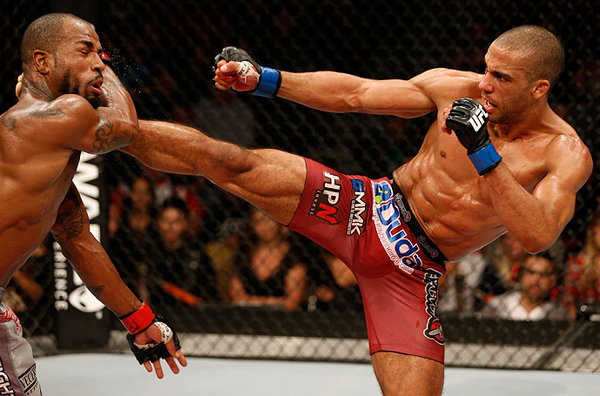 Edson is one of the most skillful kickboxers you'll ever see in MMA; he hits hard, he kicks hard, he knees hard, he's accurate, he's athletic, he's crisp with his strikes, he's great. He, like Justin, has a ground game as well, as he's a brown belt in Brazilian Jiu-Jitsu, but like Justin, he doesn't use it. He also has black belts in both Muay Thai and Taekwondo, and as I mentioned earlier, he does a perfect job of blending them. The only fighter I can think of that blended those two arts together better was Anderson Silva, and he's a completely different fighter than Barboza. Edson fights like a traditionally trained kickboxer, with some spinning attacks. Everyone's always worried about his kicks, but his hands are actually very, very good too, great even.
He has great takedown defense as well, though I don't believe it'll matter in this fight. I'll be honest, I was thinking it may be the end of the road for him before his Dan Hooker fight. Not that I thought Hooker would beat him, I was unsure how that one would play out, but Edson's two back-to-back fights with Khabib Nurmagomedov and Kevin Lee were absolute beatings he took. He has the will that's for sure, because the way he was smashed in those two fights, most people would either lose their drive, or not compete the same way afterward. They were viciously violent fights, it was almost disrespectful how badly they pounded on him, especially Kevin Lee. However, that's neither here nor there, and he rebounded with a beautiful performance and third round KO of Dan Hooker in his last outing.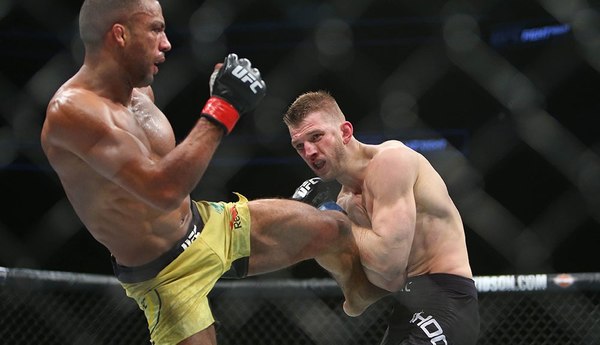 Edson is the former Renaissance MMA Lightweight Champion, he won the belt in just his second fight, and defended it twice before winning the Ring of Combat Lightweight Championship, then made his UFC debut at 6-0. He won his first four fights in the UFC, before losing a massive upset to former WEC Lightweight Champion, Jamie Varner. He then won his next three before losing to Donald Cerrone, a fight he was looking great in, and has gone 7-4 since; one loss to the current champion Khabib Nurmagomedov, one to the interim champion Tony Ferguson, one to former interim title challenger Kevin Lee, and one to Michael Johnson, a guy with three wins over top six lightweights.
I'll be honest, I didn't know this until I researched him, but he was born premature at 28 weeks, and was given a 50-50 chance to live. That's crazy, that's three months early! Now look at him, he's healthy, coordinated, and strong enough to fight against the best in the world regardless, absolutely incredible. Edson also of course has an extensive career in kickboxing, and went 25-3 as a professional with 22 knockouts, 17 of which came in round one. He won over 15 titles in those 28 fights as well, no wonder he's so dangerous on the feet.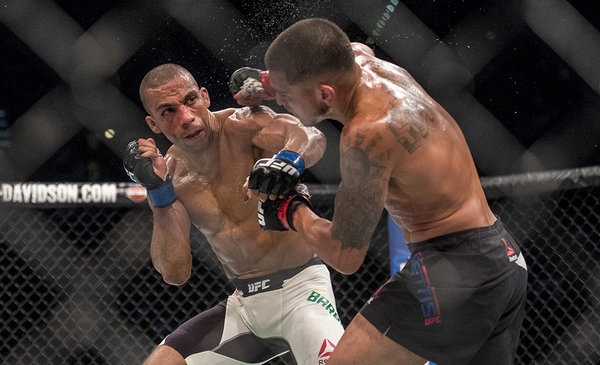 How does this one go? I really have no clue, but I do hope it goes five rounds honestly, I want to see as many minutes of these two pitted against each other as I can! Edson Barboza's 60% knockout ratio and 25-3 Muay Thai record versus the 84% knockout ratio and six WSOF titles of Justin Gaethje. As I mentioned, these are two of the most dangerous strikers in all of MMA, but particularly, they're two of the best leg kickers in the sport, and each have completely different methods of throwing them; both of these guys have perfected the idea of turning your body into an absolute weapon.
I was nervous that this fight wouldn't make it to fight day, because of how incredible of a match up it is, I was thinking it was too good to be true, but it's here! I'm so thankful the day came and neither were injured. Justin's gotten five performance bonuses in his four fight UFC career thus far, three Fight of the Night's and two Performance of the Night's; Edson has eight performance bonuses, six Fight of the Night's, and two Performance of the Night's out of his 20 UFC fights. They're both 5'11", but Edson has a four inch reach advantage on Justin, will that play a factor? This is going to be a great one, who ya got?