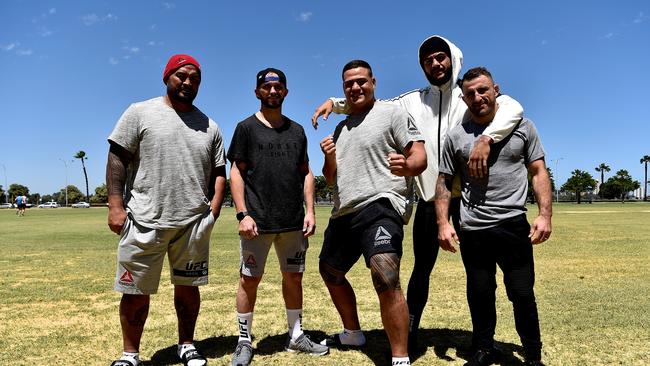 Mark Hunt has slammed the UFC for ripping off the likes of Robert Whittaker and Alex Volkanovski.
Hunt has been a vocal critic of the UFC and president Dana White since parting ways with the promotion in 2018. A few weeks ago, he criticised the promotion for allowing a "cheat" like Jon Jones to compete for the heavyweight title, and in his latest verbal onslaught, he has slammed the UFC for underpaying fighters from Oceania, like Robert Whittaker, Tai Tuivasa and featherweight champion Alex Volkanovski.
Mark Hunt Slams The UFC
In a recent interview with The Casual Fan Experience (as transcribed by BJPenn.com), Hunt said that Volkanovski, who made around two million dollars for his lightweight title fight against Islam Makhachev at UFC 284 was ripped off. 'The Super Samoan' thinks 'The Great' should have made close to 20 million.
"They wanna keep ripping these fighters off," Hunt said. "It's a f***ing ripoff. For me, guys like Volk, Whittaker, Tai (Tuivasa); all the guys from the Oceania area that work for the UFC are all getting ripped off. When you're a world champion like Volkanovski, he's getting ripped off. Tell me he's not. It's a shame — actually, I shouldn't say shame, it's a problem.
"All the Aussies and the Kiwis that went and supported him in Perth, this and that, that pay-per-view, half of that money should have gone to him and his family. Half of it, without a question. But he probably organised maybe a dollar-fifty, two dollars. He'd be lucky to get three dollars out of it. So he would've made probably two, three million dollars, when he should have been making 15 to 20. It's a problem, and the moment these fighters realise that is the moment they can fight for their own rights. It's a f***ing joke. They're [UFC] a joke."
Do you agree with Mark Hunt?