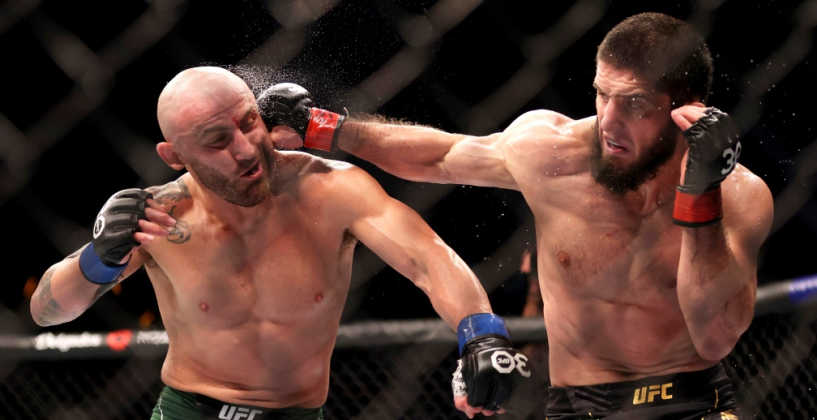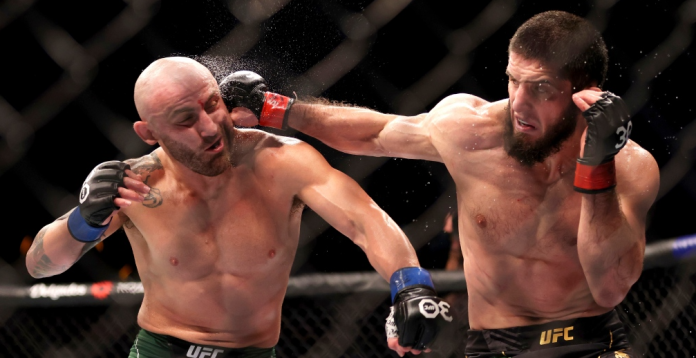 UFC lightweight champion Islam Makhachev believes he's the best fighter in the world after bagging a closely contested win against featherweight counterpart Alex Volkanovski at UFC 284.
For the first time in his UFC career, Makhachev was pushed to the limit as Volkanovski stuffed more than half of his takedowns, and popped right back up three out of the four times he was taken down. The Dagestani was forced into a striking battle, but he held his own against a top-drawer striker like the Aussie, who admitted after the fight that he underestimated his opponent's striking repertoire.
The highlight of the fight was 'The Great' badly hurting the Russian in the dying minute of the fight, but Makhachev managed to survive. Opinions are divided as they always are after a close fight, and there's a strong argument that Volkanovski outpointed the reigning lightweight champ.
Islam Makhachev Says He's The Best
In his UFC 284 post-fight interview (as transcribed by MMA Fighting) however, Makhachev admitted that Volkanovski was a tough opponent, but he still defeated him at the end of the day and deserves to replace him as the pound-for-pound king.
"It doesn't matter how I won today, now I'm not just champion, I'm the best fighter in the world," Makhachev said. "I am very happy. Now people are going to call me not just champ, but 'best fighter in the world.' This is my dream, and it doesn't matter how I won, I'm very happy.
"It was a hard fight with Volkanovski because of many things. I come from another country, more than 13,000 kilometers from my country, I come with my team, and the time is changed, and we come to the arena early morning, many things. But I don't prepare myself for easy fights. We fight not for the belt, but for who is going to be the best fighter in the world. That's why it was a hard fight."
Do you agree with Islam Makhachev?