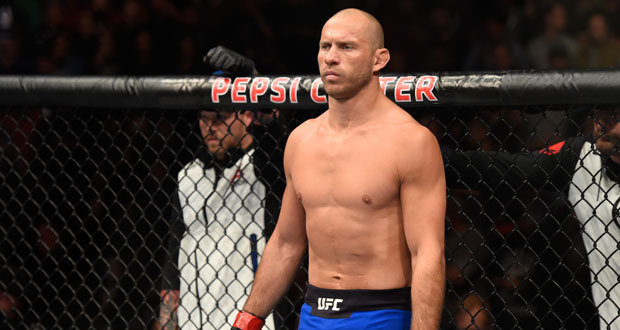 'Cowboy' Cerrone will be looking to prove his doubters, including Dana White, wrong this weekend when he faces Alex Morono in the UFC Vegas 26 co-main event.
The Colorado native was originally scheduled to face Diego Sanchez, but the fight was cancelled after 'The Nightmare' failed to prove that he was medically fit to compete. The TUF season 1 winner was later released by the promotion, making way for Morono to step in on less than a week's notice.
'Cowboy's' UFC Vegas 26 bout is a crucial one having lost four out of his last five fights. His most recent fight against Niko Price, which was originally a draw, was ruled a no-contest after his opponent tested positive for marijuana.
After his fight with Price, Dana said that it was time to have a conversation with 'Cowboy' about his retirement.
Hurt By Dana White's Comments
During the UFC Vegas 26 media day (as transcribed by MMA Junkie), 'Cowboy' said that although the conversation never took place, Dana's comments did hurt him.
"Hell yeah it hurts," Cerrone said. "What do you mean? Of course. We took a little slower approach this year, but I don't know. I am getting old. I am. I need to slow my fighting down a little bit, for sure. Let my head heal – but s***, we're ready. Doing that grappling tournament with [Rafael dos Anjos] was like the best thing I ever did. It got me excited into jiu-jitsu again. It got me excited and training and fired up. I shouldn't say fired up, because it's not like the fire ever left. I hate that term. In a way, I got excited about it again.
"I fell back in love with jiu-jitsu, and I'm excited to go out there and participate. I keep trying to find something to fill the void. Racing, I do it every day all day long, and I get excited, nervous. Saturday I get to do the most exciting and nervous thing I've ever done, and every time I love it. I feel good. Team's good. Body's good. Can't wait."
It's Not A Do-Or-Die
Although 'Cowboy' hasn't won in two years, he believes it's not a do-or-die situation for him at UFC Vegas 26.
"It's the same conversation I had with Sean [Shelby] and Dana," Cerrone said. "Like, 'The Diego fight's out, you want me to take a short-notice fight? I'm not on a four-fight winning streak. It's actually the opposite. I don't want to be in here fighting for my job. I don't want to come to you like 'Man, I shouldn't have done that.' All that aside, that's not even in my thought. Like, 'Oh, I have to win. This is a must-win.' I get to go in, I get to go fight. I get to do what I love. So, I feel great. The age is no factor on me right now. I'm not beat up or sore."
Finishing Morono In The First Round
'Cowboy' expects Morono to come out with all guns blazing at UFC Vegas 26, but he will be ready for everything that comes his way, and warns 'The Great White' that he won't make it out of the first round.
"The kid's coming," Cerrone said. "He's hungry. That's what makes this dangerous because he's not an old veteran like I am. He's like a new, up-and-coming, hungry kid. I'm sure his team are like, 'Go in there and swarm this motherf***er right away in the beginning. If you're going to get 'Cowboy,' you're going to get him early.' So, I brought [my coach] with me, we're going to be getting rounds one and two out of the way in the back, so I'm going to come out there f***ing ready to go.
"I wanted main event. I would've loved five rounds. I don't know if that kid can go five. I still have the malicious intent on hurting a motherf***er. … I plan on every punch and every kick to be lethal, and I don't want this kid to make it out of the first round. So, when he watches this, know I'm coming motherf***er, so when you come hard and come fast in the beginning, I'll be ready."
Who do you think wins the UFC Vegas 26 co-main event between 'Cowboy' Cerrone and Alex Morono?
See also: