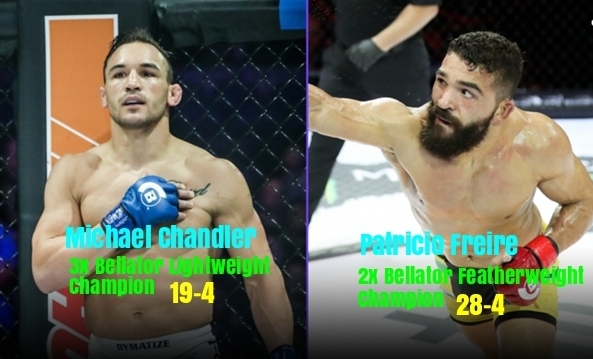 This weekend we have a stacked Bellator card coming our way, along with UFC 237. Bellator may have the edge as far as views this weekend; their main card can certainly compete with UFC 237's main card. Bellator 221's main card will be on DAZN, which is cheaper than the UFC's PPV, and considering you need an ESPN+ subscription in order to watch numbered UFC events, it may be more efficient for fans to watch Bellator instead. Honestly, I wish they didn't compete with each other time-wise and we could watch both live, but they do, so we can't.
There are four fights on this main card, and all four are quite intriguing. We have a match up between former WWE star, Jake Hager, and his opponent, TJ Jones. Isn't it kind of funny Jake's opponents name is a mix between two of the biggest cheaters in MMA? I found that a little humorous. Next we have AJ McKee looking to make it to 14-0 in his third step up in competition against Pat Curran.
In the co-main event we have a match up between two of the best strikers this sport has ever seen, Douglas Lima and Michael Page, and we have a lightweight title fight in the main event between two multiple time Bellator champions, Michael Chandler, and Patricio Freire. This card hosts three two-time Bellator champions, and one three-time Bellator champion, plus a few up and comers. This is one of Bellator's better cards they've ever had.
Michael Chandler (19-4) vs. Patricio Freire (28-4)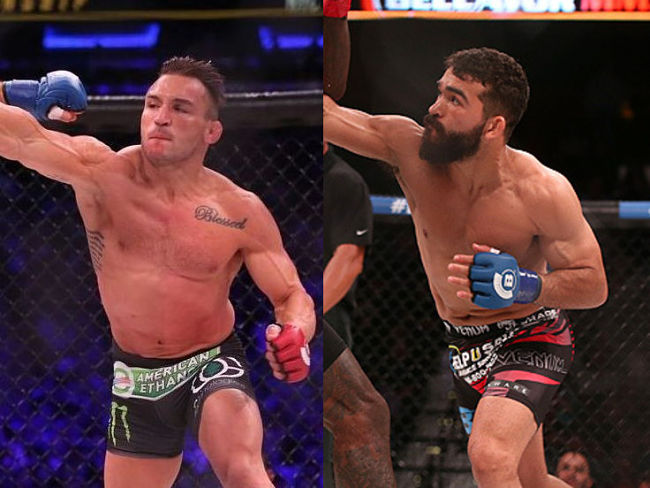 This is a match up between three-time Bellator Lightweight Champion Michael Chandler, and two-time Bellator Featherweight Champion, Patricio Pitbull Freire. This is a great superfight between two of the sports best, both have been at the top of their respective divisions more than once. They're both very well rounded, and both are very dangerous. Chandler is considerably bigger, I don't even think Patricio is that big of a featherweight; he's just 5'5" with a 65" reach, while Chandler is 5'8" with a 69" reach. Both guys appear to be in their prime, and they don't appear to be too fond of each other either.
Both guys could legitimately have different looking records:
Two of Patricio's losses are very close split decisions, and one was an injury, just like Chandler, who also has two incredibly close split decision losses, one real loss, and one loss via injury. Think about it, Chandler's rematch with Alvarez and his first fight with Will Brooks, both of those could've easily went his way, and the first Primus fight would've most likely went his way had he not gotten injured.
He could easily be 22-1 right now instead of 19-4. Same with Pitbull, he lost very close split decisions to Pat Curran and Joe Warren, both of which he could've easily gotten the nod in, an lost via leg injury to Benson Henderson. He could easily be 31-1 instead of 28-4. Just an interesting way to look at it, and honestly, it's a plausible way to look at it, though it doesn't really matter.
What matters is how these two match up together. I think Chandler will have the strength and wrestling edge, while Pitbull will have the grappling edge, and most likely the speed advantage, though Chandler is lightening quick himself. I didn't expect a fight like this to be made, but I'm glad it was, I'm very excited to see it. I really have no idea how this will go; I would say I'll take Chandler because he's bigger, generally when you have two of the best in the sport, but in different weight classes, the bigger one will win, usually, not always. However, I think Pitbull could possibly catch him on the chin and hurt him, Pitbull has some power for a little guy.
We have the BJJ black belt of Patricio Freire and the NCAA Division I All-American status of Michael Chandler, who's also a two-time Big 12 Conference Championship Runner-Up. Chandler held a record in college wrestling of 100-40, will he be able to use that to win at Bellator 221? We'll find out shortly, this is a great weekend of fights!
Chandler has three overall title defenses, Pitbull has four, two in each title reign; Chandler has the most finishes in Bellator history at eleven, Pitbull comes in second with ten. Chandler is tied for the most submission wins in Bellator history with six, and has the most title bouts in Bellator history at ten. Another interesting fact about this fight is that these two are tied with each other for the most wins in Bellator history with sixteen. Who will surpass the other and get their record setting seventeenth Bellator win?
Douglas Lima (30-7) vs. Michael Page (14-0)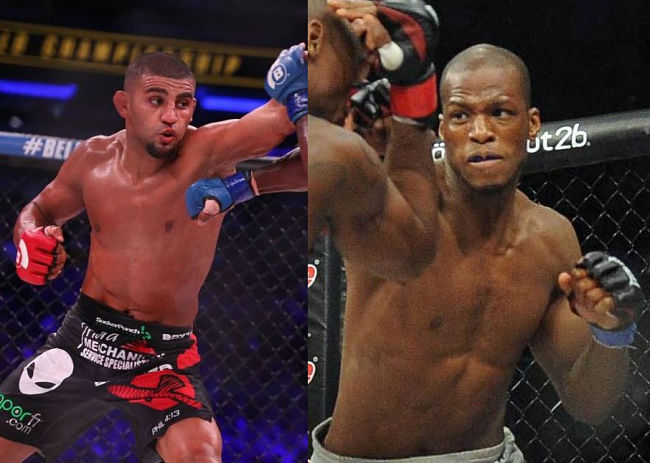 I'm so excited for this fight, the last two match ups that Michael Page has been a part of have been very easy to get excited about. In his last fight, he fought vicious knockout artist and professional kickboxer Paul Daley, and now he fights another kickboxer in Douglas Lima. Page has been perfect thus far into his MMA career, and it'll be very interesting to see if that stays the case this Saturday night. Lima is such a dangerous striker, and so is Page, but they couldn't be more different in their approach.
Lima fights like a traditionally trained Muay Thai fighter, and holds a BJJ black belt. His leg kicks are some of the best in the entire sport, think of a welterweight version of Edson Barboza, minus the spinning attacks, and a better grappling game, that's Douglas Lima. He's also 21-0 in amateur Muay Thai. Of those twenty one wins, seventeen are knockouts.
In semi-contact, and light-contact matches, ranging from World Combat Games, to WAKO, to WKA, and ISKA, Michael Page has won six gold medals, five silver medals, and one bronze. Those are Kickboxing and Karate organizations, he's perhaps the best point sparring fighter to ever compete in MMA. He's also 2-0 in boxing, and 1-0 in kickboxing, both full contact. He knows how to turn the power up however, he may be used to light-contact and semi-contact, but he can crack hard and at just the right moment.
His timing is impeccable, he really is incredible. It'll be interesting to see how he handles this fight. As I said, the point fighting master fought another kickboxer in his last outing; Paul Daley is 21-3 in full contact kickboxing. Now he's fighting another fighter with full contact kickboxing experience. It's always fun to see how semi-contact fighters do against full contact fighters. Of course Page is a full contact fighter now, but that's not what he started with, like Lima, or like Daley. Page is so good at striking that he even got Paul Daley to try and wrestle with him, that's something I never would've expected, Daley does not like to fight on the ground at all.
Will Lima be able to use that nasty leg kicks to slow down the movement of Michael Page? Lima is a former two-time Bellator Welterweight Champion, and in the last ten years, holds a record of 18-3. Those only three losses were to Ben Askren, Andrey Koreshkov, and Rory MacDonald, the Koreshkov one of which he avenged, twice. He lost via five round unanimous decisions to all three, and finished Koreshkov in both the rematch, and the trilogy. This is perhaps my favorite match up on the card, should be a very interesting fight.
AJ McKee (13-0) vs. Pat Curran (23-7)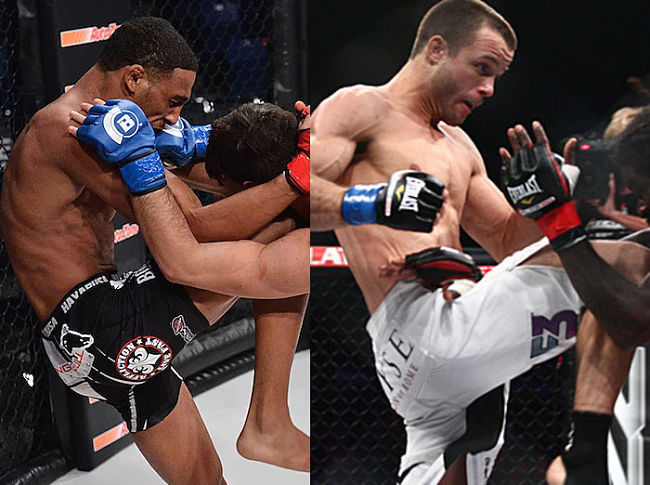 AJ McKee has been on many fans and fighters' radar for a couple years now. He just turned 24 years old, and has won all thirteen of his fights, with an even mix of methods; five knockouts, four submissions, and four decisions. It's kind of surprising to me that he's the A-Side in this fight honestly, Pat Curran is a former two-time Bellator Featherweight Champion, and has fought the best the promotion has really ever had to offer; including Eddie Alvarez, Joe Warren, Patricio Freire, Daniel Straus, Emmanuel Sanchez, Daniel Weichel, Georgi Karakhanyan, and a bunch more.
I wouldn't say AJ has a padded record, considering how young he still is, but he didn't have too stiff of competition until about a year ago. The first real test he had was against The Ultimate Fighter 15 star, Justin Lawrence. He defeated Lawrence via unanimous decision, and was next put up against John Teixeira. He was 21-3-2, with two of those losses via split decision, the other via unanimous decision to Pat Curran; McKee KO'd Teixeira in :69 seconds, and improved to 13-0, handing Teixeira his first loss via finish. He's fought once since then, winning via anaconda choke in round one.
Pat Curran was a guy many people wanted to see in the UFC for quite awhile. When he was in his prime, he was a great fighter, a very dangerous and well rounded guy. He's now 31 years old, but hasn't fought in a year and a half. Pat won the Bellator Lightweight Tournament awhile back, and got a title shot against The Underground King Eddie Alvarez.
He lost that fight via unanimous decision and dropped down the featherweight division afterward. After dropping down, he also won the Featherweight Tournament, and was now granted a title shot at 145 lbs. Curran defeated then champion Joe Warren in an absolute barn burner, especially the finish; he got the KO in round three and was the new Bellator Featherweight Champion.
Curran defended the belt twice before losing it to Daniel Straus; he recaptured the belt in a rematch with Straus, a fight he was losing, but got the rear nake choke finish just fourteen seconds before the final buzzer in round five. He then lost the belt in his next outing however in a rematch to Patricio Freire. He had won the first fight via split decision in his first title defense; now he was making his first title defense of his second title reign, but it'd be short lived, as the rematch was awarded to Patricio via unanimous decision.
Curran would lose his next fight via split decision to Daniel Weichel, and was now 1-3 in his last four. From champion, to losing 75% of his most recent fights, that must've stung. Pat has since gone 3-0, and against good opposition as well. I'm very excited to see how AJ will handle an experienced, elite vet like Pat Curran. Both men are 5'10" with 73" reaches. This is one you certainly don't want to miss!
Jake Hager (1-0) vs. TJ Jones (1-1)
Jake Hager will make his second appearance inside an MMA cage tomorrow night as he fights TJ Jones. I've seen so many people discredit him, and his opponent; people saying he's only fighting cans, so he sucks. First off, this is the second opponent in a row he's fighting with a 1-1 professional record, both have more fights than him, and the second opponent in a row he's fighting that has had a lengthy and successful amateur career.
What, should he just come in and fight Ryan Bader out of the gate? Let's get real, you can't just throw someone who's only combat experience is wrestling almost twenty years ago to the wolves. They want to build him up, they want him to grow as a fighter and not crush his confidence too early. They're doing exactly what they should do with him. It's the second guy in a row he's fought that is short and stocky, and the second guy in a row he's fought that doesn't look too intimidating. As I said before however, guys that're built like that hit incredibly hard usually, don't underestimate him.
With all of that being said, I was actually very impressed with Hager's MMA debut; he had great positional awareness once he got the takedown, and almost attempted a kimura before passing and sinking in the arm-triangle. After pushing Kiser up against the cage, he also pulled off a beautiful ankle pick to secure the takedown. He was a little more well versed that I expected, I'm very interested to see more of his development.