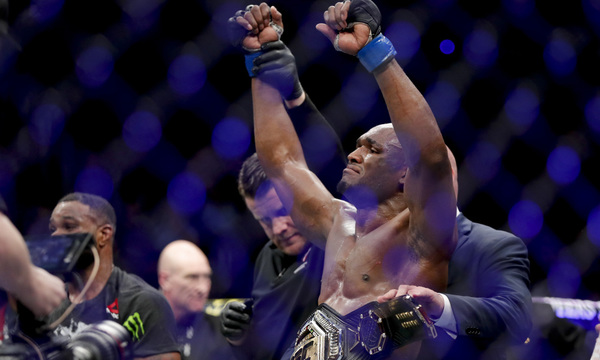 This past Saturday at UFC 235, Kamaru Usman made history, becoming Africa's first MMA and UFC World Champion. In doing so, he defeated widely considered the number two welterweight of all time in Tyron Woodley, and dominantly! He won all five rounds, and quite easily, which is incredibly surprising. He became only the second man in the UFC to be able to take Tyron down, the other being Bellator Welterweight Champion, Rory MacDonald.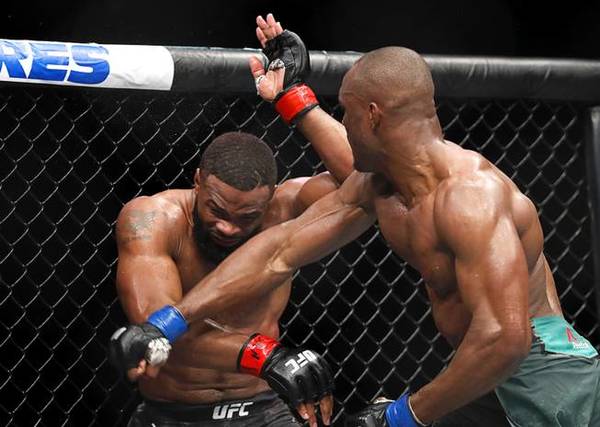 Kamaru Usman defeated Tyron Woodley by dominating him for all five rounds, winning 50-44, 50-44, and 50-45, though many thought he definitely had more than one 10-8 round in there. It was crazy, even most that expected Usman to win didn't expect a clean sweep. He used his pressure, endurance, volume of strikes, fight IQ, and wrestling, all of which were on point for the entire 25 minutes. He really did look incredible. Many were bored with the fight, but that doesn't take away from the fact that Karamu just easily won all five rounds against the guy everyone was calling the Welterweight GOAT, now I don't see that quite so much anymore.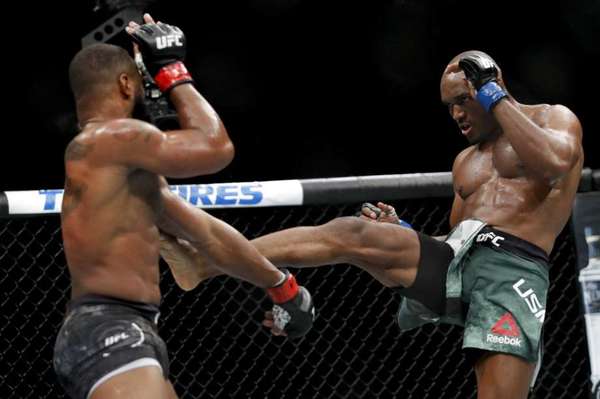 Some speculate on whether it just wasn't Tyron's night, like he didn't wake up in the fight, like it was just a sluggish day for him. Does anyone realize how disrespectful that is to Kamaru and everything he did to Tyron? It's terrible, this guy just had the performance of his life, and tons of people are saying Tyron just didn't look himself. Well of course he didn't look himself, he was being pressured the entire fight by a 3x NCAA Division II All-American and 2010 NCAA Division II 174 lb Champion.
Just because Woodley is NCAA Division I, and generally Division I schools are bigger like he said, and have more competition, doesn't mean he's a better wrestler than someone from a Division II school. First off, and I couldn't believe no one talked about this before the fight, Tyron was a 2x All-American, Kamaru won that status one more year; also, Kamaru was the champion of his weight class, Tyron never even placed. Not to say that's mediocre, because it's not, he's still a stud wrestler. Tyron Woodley was also never a University World Team member, as Kamaru also was in 2010. Considering that, I couldn't believe people would write off Usman's wrestling.
He's also three inches taller and had a two inch reach advantage on Woodley. He has been as dominant as you can possibly be without consistently finishing people. He also, as Luke Thomas stated, is one of only two fighters ever in UFC history to land 100 significant strikes and 10 takedowns in one fight, the other being Cain Velasquez, and Tyron's had problems with opponents that out land him in the past. Not that I thought he'd be able to do what he did, because I certainly did not expect that.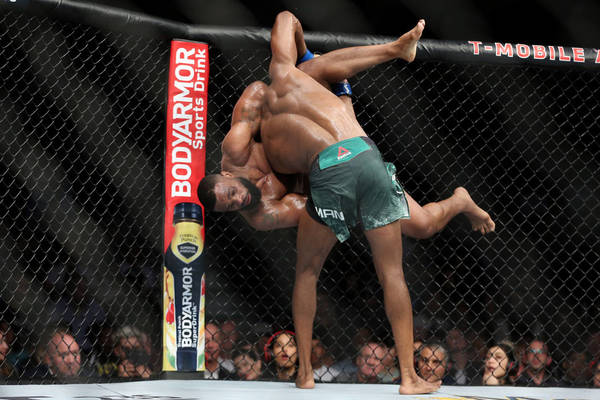 The way he was able to wrestle Woodley around was quite impressive, considering Tyron Woodley's only been taken down once in the UFC, by Rory MacDonald. He had legendary takedown defense against legendary takedowns specialists, making Jake Shields go 0-18 in takedowns against him, and Demian Maia went 0-24 in his takedown attempts against him. Maia was previously 10-2 at welterweight, and had taken every single opponent down at that weight; guys like Rory MacDonald twice, Ryan LaFlare five times, Jorge Masvidal four times, Jake Shields three times, Jon Fitch seven times, Rick Story three times, and all other six, but couldn't take Tyron down in 24 attempts.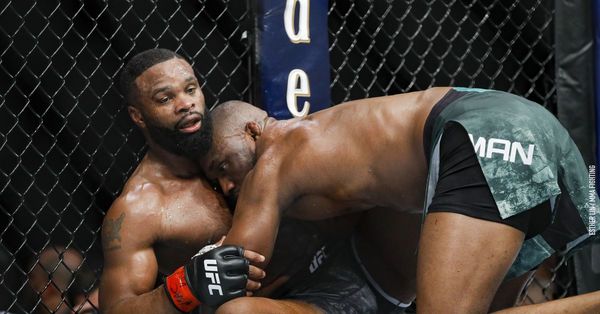 Kamaru had two official takedowns out of six attempts, and kept him down each time he got him to the mat. He absolutely ran away with that victory, and even held mount for a few minutes in round two, it was incredible. As Joe Rogan said, "we all wondered how you'd do against the very best, but it turns out you are the best". That was perfectly put in the post fight speech, Joe is truly the best at what he does.
Considering how Usman did, I wonder how the man that was supposed to get this fight would've done, the UFC Interim Welterweight Champion, Colby 'Chaos' Covington.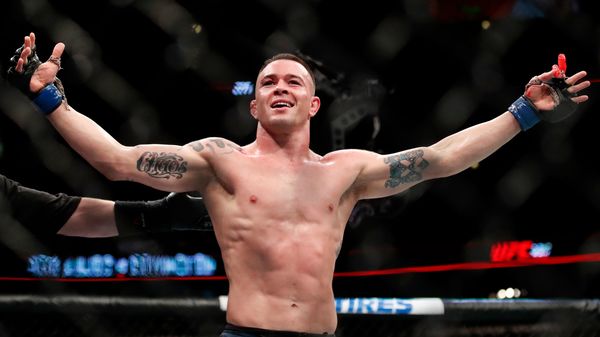 Kamaru Usman and Colby Covington have had harsh feelings toward one another for quite some time, and Dana White said this is what's next, which is great. However, I can't help but notice, Colby and Kamaru have very similar styles. They're both relentless wrestlers that strike to get into range, and pressure you against the cage for the takedown, or just to grind on you. And neither get tired, ever. They're both in such great shape, and both stud wrestlers that throw often. I'd say Kamaru is more physically imposing than Colby, but considering Kamaru won all five rounds, and easily, could Colby have won three? I'm very excited for this upcoming title fight, I really hope it doesn't fall through.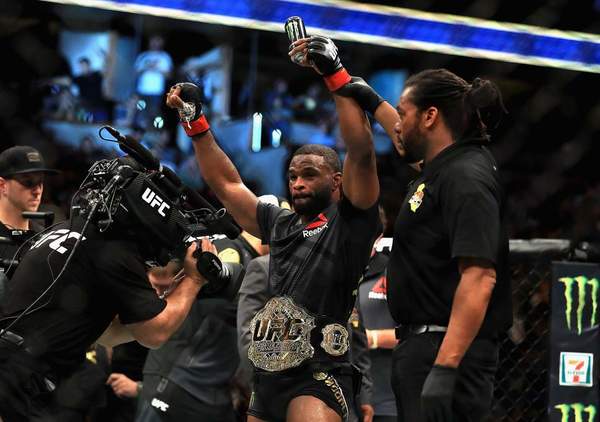 Tyron Woodley won the UFC Welterweight Championship after becoming only the second man to knock Robbie Lawler out, back in the middle of 2016, the first being Nick Diaz in 2004. He's since defended it three times, in four fights, considering he retained it in his first defense against Stephen 'Wonderboy' Thompson. He rematched Wonderboy and won via majority decision, defeated Demian Maia via unanimous decision, and choked out Darren Till in that order in his successful defenses; a fight the 44-0 kickboxer Till didn't land a single significant strike in, and landed only one total strike. Last Saturday was by far the most one sided of a loss he's had, I think people really underestimated Kamaru Usman's tenacity, and overall skillset in general.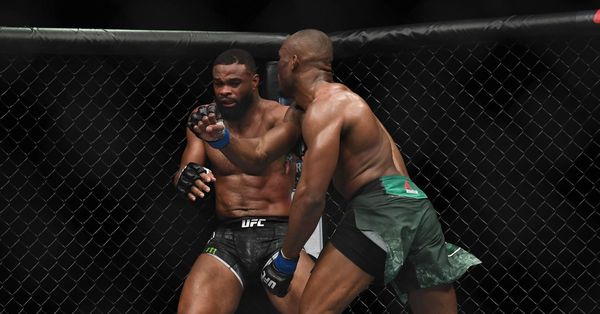 Speaking of strike totals, Kamaru Usman landed 141 significant strikes to Tyron's 34, and 336 total strikes to Tyron's 60. He simply out worked him, and put a pace on him he couldn't keep up with, along with the stellar wrestling Usman possesses. How will Kamaru hold up as champion? My thought is pretty well, but there are some studs at welterweight, it won't be an easy title to keep.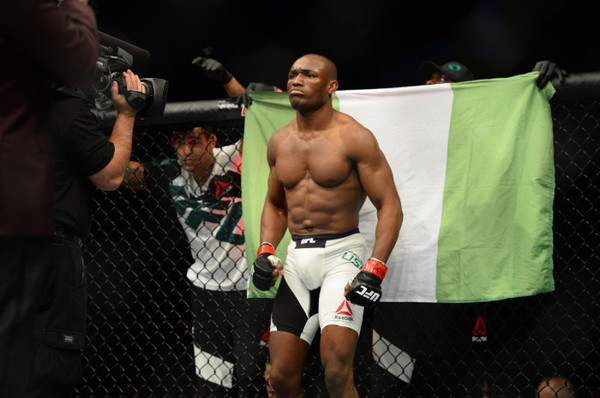 I'm so glad Africa is finally getting on the map as far as MMA is concerned, they are so incredibly athletic, strong, explosive, it's nuts. Just sparring with black people is a little different because they generally hit a little harder, and are often times faster; they make incredible athletes. The first African Native fighter I started watching was Anthony Njokuani in the WEC, and now we have guys like Kamaru Usman, Israel Adesanya, Francis Ngannou, Hakeem Dawodu, Abdul Razak Alhassan, Sodiq Yusuff, and others making waves at the moment in the UFC, just wait a few more years. Once these guys know everything the rest of the world knows and have as many gyms as we do, they're going to take the game by storm. That's my prediction. Congratulations to the new UFC Welterweight Champion Kamaru Usman!