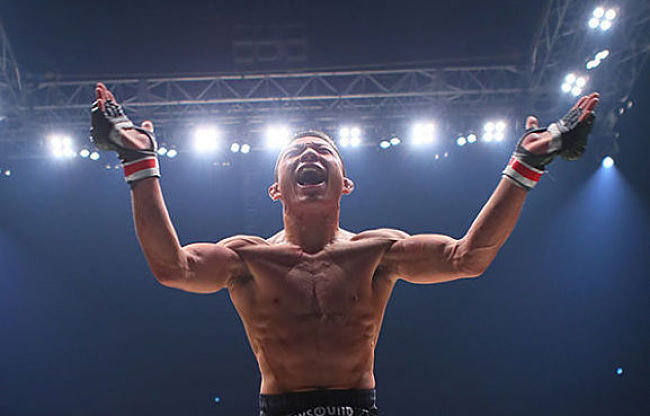 We've had a few champ-champs by now, but how about a multi-organization champ-champ? Now that's something new, that's something that hasn't been done before, until now. We got the UFC Flyweight Champion Henry Cejudo who came up to 135 lbs to take the UFC Bantamweight Championship at UFC 236, and Kyoji Horiguchi, who's the Rizin Bantamweight Champion that just won the Bellator Bantamweight Championship at Bellator 222. Those two things happened in back-to-back weekends.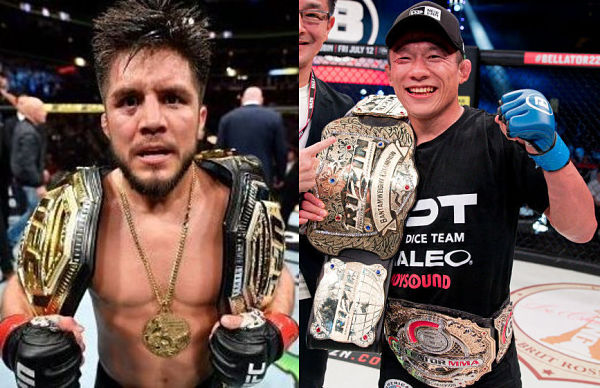 Kyoji Horiguchi has been nothing short of amazing in his entire MMA career, but particularly since he left the UFC. He had a great deal of success in the UFC, going 7-1, but left to Rizin for a better opportunity, before the UFC even had talks about shutting down the flyweight division, as he was still a flyweight at that time. His first fight in Rizin was at flyweight, then he started fighting at bantamweight, and I thought maybe he'd be a little small for the weight class, but his speed and skill set is just as effective there as it was at 125 lbs.
Kyoji had success early on in his MMA career, winning the Shooto 2010 Rookie Tournament in just his third fight. He lost his seventh fight via majority decision, and went on a tear afterwards; winning the Shooto Bantamweight Championship against The Ultimate Fighter 24 veteran Hiromasa Ogikubo, and defending it against Bantamweight King of Pancrase Champion Shintaro Ishiwatari via TKO in round five, before joining the UFC's flyweight roster.
He was now 11-1 with eight finishes, seven via knockout, and was making his UFC debut against The Ultimate Fighter 14 veteran and former ROC Banamweight Champion Dustin Pague. He gave Dustin some problems in round one, making it hard for the taller fighter to even touch him, before finishing him via strikes in round two.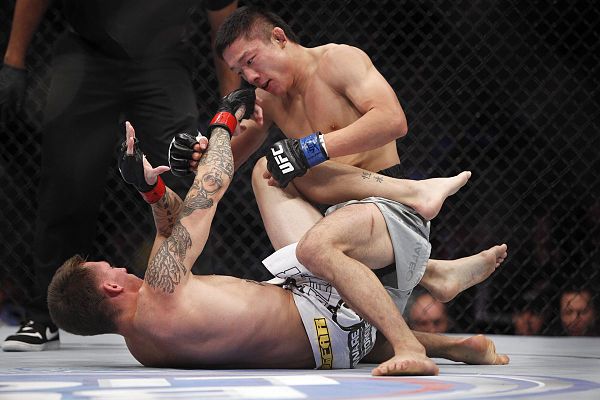 His second UFC appearance would be against former TPF and Gladiator Challenge Flyweight Champion Darrell Montague, Kyoji would easily pick Montague apart for the unanimous decision victory, before finishing Jon delos Reyes in his next outing via strikes. His next fight would be against another TUF 14 veteran, and another former champion in Louis Gaudinot, as he doubled up on strikes against the former ROC Flyweight Champion, and future CFFC Flyweight Champion in route to a unanimous decision victory. He was now 4-0 in the UFC, and was about to get his title shot against MMA royalty Demetrious Johnson.
This fight wasn't too awfully competitive, as Demetrious out struck Kyoji 149-61, and took Kyoji down 14 times inside of the five rounds, and submitted him with an armbar, his first submission attempt of the whole fight, with just one second left in round five. It didn't surprise many that he lost however, he was just 24 years old, and Demetrious was making his sixth title defense.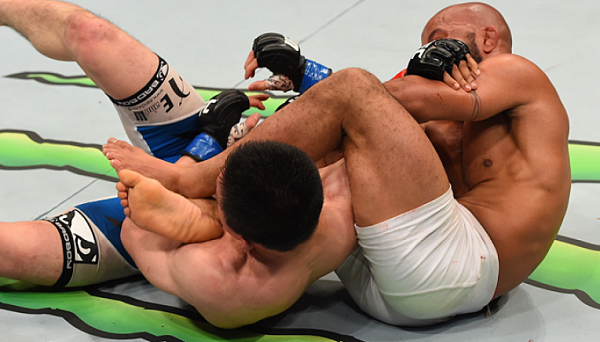 After this defeat, he would be 15-2, and would pick up unanimous decision wins over Chico Camus and Neil Seery, before fighting former number one contender and World Combat Sambo Silver Medalist Ali Bagautinov. He would out strike Ali 115-48 in total strikes, and would get four takedowns as opposed to Ali's two. That was very surprising to me, Kyoji really put it all together in this fight and looked incredible.
He now held a record of 18-2, and was headed to Rizin. He would win via unanimous decision over the 18-4 Yuki Motoya, before KO'ing former DREAM Bantamweight Gran Prix winner Hideo Tokoro with a beautiful overhand right in the first round of the 2017 Rizin Bantamweight Gran Prix. His next outing would be a quarter-final match up against the 10-0 Gabriel Oliveira, he would score another first round knockout. In the semi-finals, he would fight Manel Kape after Kape defeated Ian McCall, and would win that fight via arm-triangle choke at the end of round three.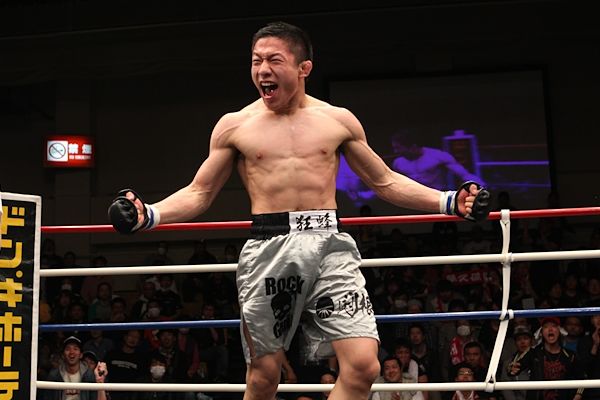 His next fight would be for the 2017 Rizin Gran Prix Championship, and would be a rematch against the 25-6-4 Shintaro Ishiwatari, who now wasn't just the Bantamweight King of Pancrase Champion, but a six-time Bantamweight King of Pancrase Champion. Kyoji would knock Shintaro out again, this time in round two, and was now the 2017 Rizin Bantamweight Gran Prix winner. He would then fight Ian McCall himself, and KO him in just :09 seconds, before rematching the 17-3-2 Hiromasa Ogikubo; this time he was unable to finish Hiromasa, but still defeated him via unanimous decision.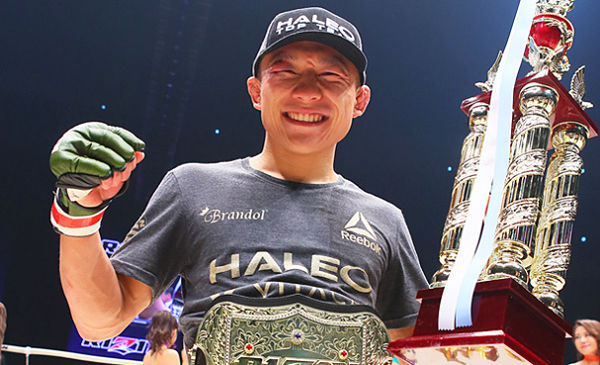 Kyoji would then take up a kickboxing match with kickboxing prodigy Tenshin Nasukawa, he would lose this bout via unanimous decision. It was quite obvious that it'd most likely go to Tenshin, that kid is 105-5-1 in amateur kickboxing, is now 31-0 in professional kickboxing, and is 4-0 in professional MMA, all at just 20 years old, absolutely stunning! Kyoji does have a 2nd degree black belt in Shotokan Karate, and has some of the slickest and quickest striking in MMA, but when you're talking about kickboxing Tenshin Nasukawa, you're probably going to lose. After this is when he'd really get big.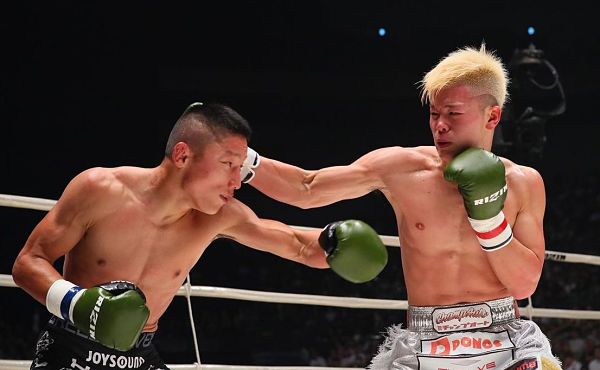 His next fight, Rizin got Bellator Bantamweight Champion Darrion Caldwell to come over and challenge Kyoji Horiguchi for the vacant Rizin Bantamweight Championship. It was a competitive fight, and was fun to watch. It appeared that Darrion got a little tired, and was choked out with a guillotine at 1:19 of round three. That was also his only other loss as well; when Darrion was 9-0, he fought Joe Taimanglo, and got guillotined at :09 of round three, but was able to defeat him via unanimous decision in the immediate rematch.
Kyoji's first fight as champion would be against fellow UFC veteran and former Nitro MMA Bantamweight Champion Ben Nguyen. This was a non-title fight because it was at a catchweight of 132 lbs; I'm not sure why it wasn't because even if they can't weigh in at more than 132 lbs for it, that still falls under the bantamweight class. Nonetheless, Kyoji would win via TKO half way through round one.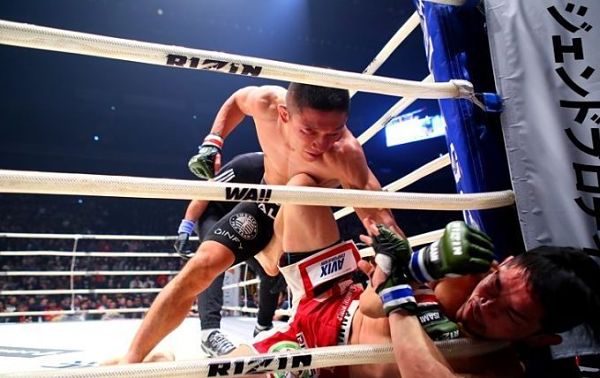 Kyoji would then return the favor to Darrion Caldwell, and come over to his promotion to fight for his belt. To Darrion, this was an immediate rematch because he hadn't fought since their first fight. Caldwell won the first round pretty dominantly, and the second round could've gone either way. Darrion controlled Kyoji, but was unable to do anything, really the whole fight went this way.
Darrion did have Kyoji against the cage for most of the fight, but did nothing, and Kyoji was out striking him on the feet, and trying to win every second while it was on the ground. The scorecards were read 49-46, 48-47, 48-47 for Kyoji Horiguchi, and he's now the Bellator Bantamweight Champion as well as the Rizin Bantamweight Champion. I think Darrion needs to go to featherweight, he gets tired way too quickly.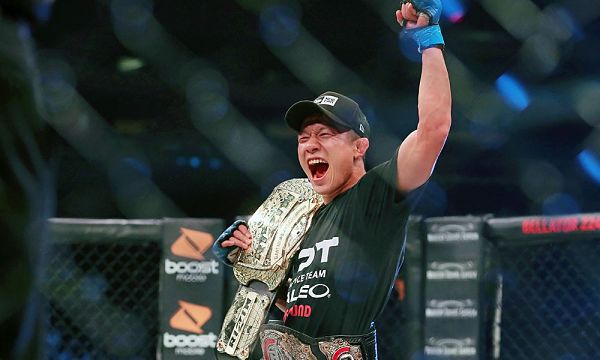 To hold the 135 lb championships of two of the biggest MMA promotions in the entire world is absolutely astonishing. To add to that, he's still only 28 years old, he should be this good for at least three or four more years, and will perhaps get even better until then. He's so fast, his striking is at such a high level, and he can grapple quite well too. He's also a an A-Class Shootist. Wouldn't it be great to see more cross promotion fights? Wouldn't it be great to see Kyoji defend both titles? Whichever promotion has the most deserving number one contender is which promotions belt he'll defend.
That sounds like a great idea to me. After he does that for awhile, why not go to ONE and rematch Demetrious Johnson? That's a rematch I'd be dying to see! Also, if he keeps his belt for awhile, why not have him come over and challenge Henry Cejudo for the UFC Bantamweight Championship? I believe Henry will most likely be champion for quite awhile, or maybe even the other way around; have Henry come to Rizin and fight Kyoji in a ring.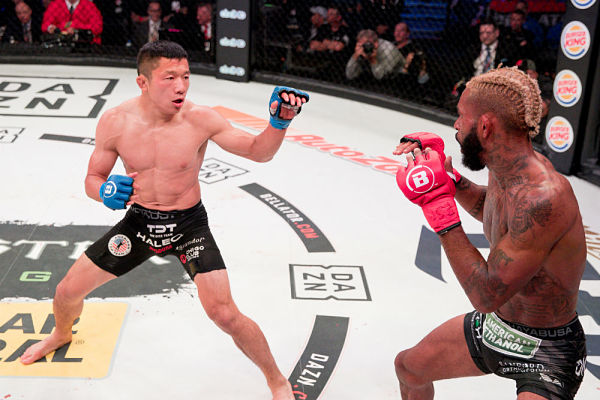 That'd be so great for the sport, if Henry wins, he'll also be a multi-organization champ-champ; and if Kyoji wins, he'd be considered the best bantamweight in the world, and then they could run it back in the UFC, like he did with Caldwell. There's so many great options to look at when things like this are possible.
Seems how Bellator is crossing fights and fighters with Rizin, I think the UFC would be ignorant to not do the same; it's great for the fighters, it's great for the sport, and it's certainly great for the fans. What do you think will be next for Kyoji Horiguchi? Will he defend his Rizin title or Bellator title first?